Some fantasy leagues charge additional fees for fantasy transactions or other end of year fees. LeagueSafe does support that, although it's not a pay-as-you-go system, it's something that the commissioner reconciles at the end of the season. Most commissioner software services allow commissioners to track fees like this, so use one of those and you can apply the additional costs to LeagueSafe.
Please note the following:
Your league's transaction fees are limited to 25% of the total amount of entry fees paid in.

So if your league had paid $1,000 total in league dues, your league would be limited to 25% of that (or $250) in additional fees that could be assigned.

Transaction fees generally result in delays of allocations, as LeagueSafe must wait for certain members to make payments before some funds can be allocated.
End of year transaction fees carry no late fees, but the credit card fee may still apply. More info in our Terms.
If you've got owners that owe end of year fees, you assign them AT THE SAME TIME as you assign your winnings. Don't do these separately! Don't start by clicking the Assign Winners button.
Below the Choose Winners dropdown, there is a link to our Complex Allocation page (see below). Click that.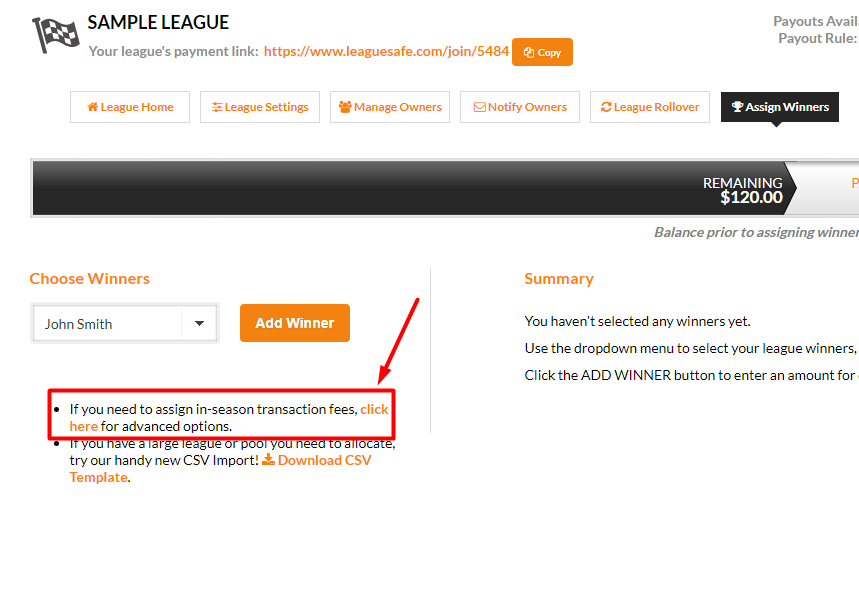 Then we get complex. Math is involved, but we do it so you don't have to. In fact it's better if you don't do as much math.
Start by entering in the amount of additional fees for each of your members.
Continue by entering in the amount each of your members won (without regard to how much they owe, remember, we're doing the math).
The Wins/Owes column should show how much each member won or how much they owe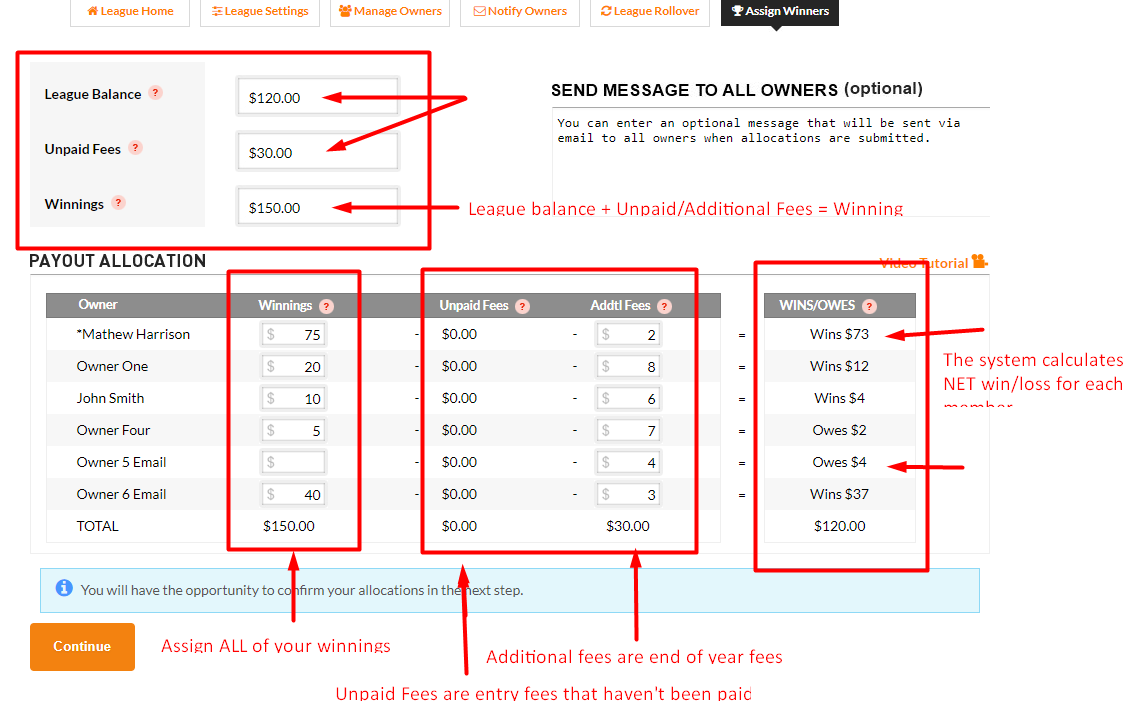 Yeah, this sucker can confuse you. So go through the process, check and make sure that everything adds up. Your league balance PLUS your unpaid fees should EQUAL the amount of winnings you can assign.
Once you click the Continue button, you're faced with a choice. Do you want to allocate some of the winnings now or wait until everyone has paid in? Here are the two options.
Allocate Now in Priority Order
This pays out the winner of the biggest amount first and continues to pay out until the league pot can't fulfill the next winner in line.
Once members who owe make their payment into the league, the system re-checks to see if they can make the next payout.
Once everyone has paid, the last member will be paid out
Wait to Allocate Until All Fees are Collected
This is exactly what it sounds like. No allocations will process until all members have made their post season payments to LeagueSafe
Here's what that screen looks like (it explains everything):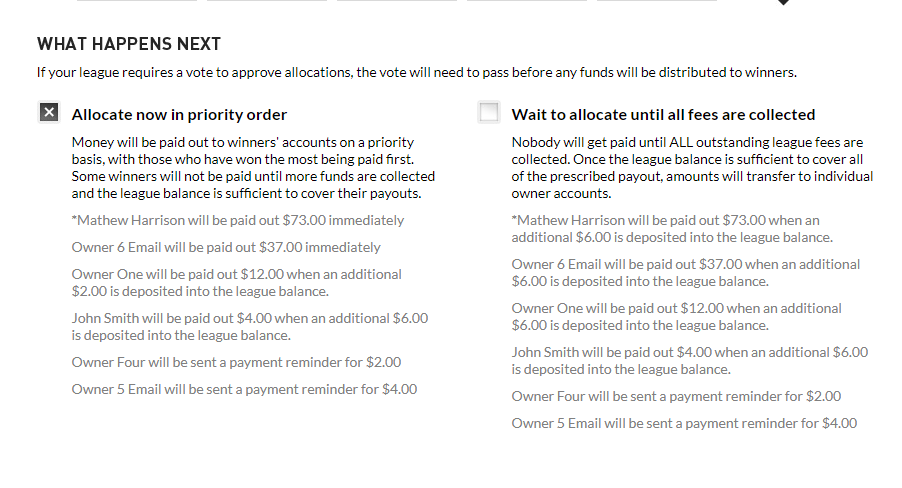 Make your selection, confirm your allocation and your league should then operate under their payout rule. If Commish Control, things will process immediately. If Majority Approval, your paid league members will be able to vote on the allocation.
If you have questions, our support reps are standing by to give you a hand. Just open a ticket and make sure to give as much info as possible.