In order to make payments to or participate in contest leagues, we must verify that you aren't located in a state or jurisdiction that bans fantasy sports participation. Our location systems work best with a combination of WiFi, GPS, or GSM signals to pinpoint your exact location.
If your geolocation settings have blocked our attempt to locate you, you'll have to enable the location for our website. Based on which browser you are using, you can find out more information on your geolocation settings below.
If you didn't allow geolocation, you'll see that the payment option buttons are grayed out as shown in this screenshot: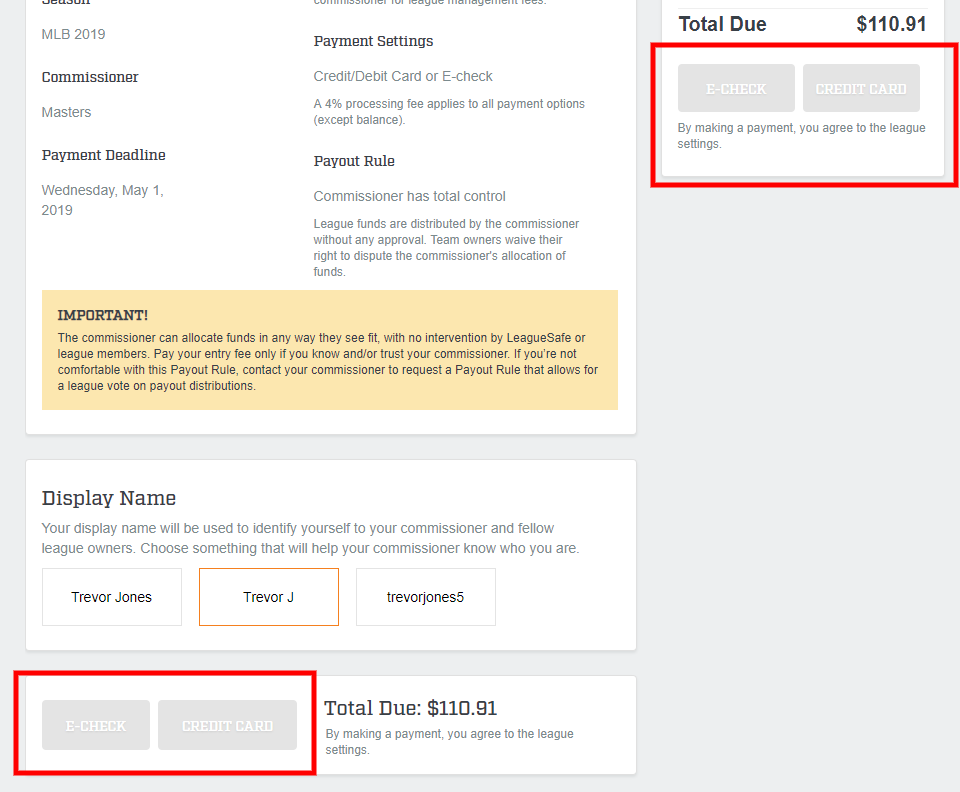 The payment buttons will remain grayed out until you follow these steps to allow geolocation.
PLEASE NOTE THAT YOU WILL NEED TO COMPLETELY CLOSE OUT OF YOUR BROWSER AND START AGAIN WITH A NEW BROWSER WINDOW IN ORDER FOR THESE CHANGES TO TAKE EFFECT.
Location Settings for Desktop Computers
Select your browser below for instructions on how to modify your location settings.
Once you allow our site to locate your device, you should be well on your way to get back in the game.
Location Settings for Mobile Devices
In order to play in contest leagues, you must have Location Services on to enable GPS.
See below for tips on how to enable GPS and Location Services
Apple iOS
Turn on Location Services:Settings >> Privacy >> Location Services >> select "On"
Allow us to Collect Location Data: Settings >> Privacy >> Location Services >> select your "browser" > select "On"
Reset location and privacy:Settings >> General >> Reset >> Reset Location & Privacy
Android (Chrome)
Turn on Location Services:Settings: >> Location >> "Turn On"

or Chrome >> Settings >> Site Setting >> Location >> select "Location access is turned off for this device" >> select "On"

Allow us to Collect Location Data:Chrome >> Settings >> Site Setting >> Location > select "On"
Unblock Instructions If Blocked Accidentally:Chrome >> Settings >> Site Setting >> Location >> Blocked >> select website >> Location Access >> "Allow"
Android (Firefox)
Turn on Location Services:Settings >> Location >> select "On"
Allow us to Collect Location Data:Firefox >> Page >> Edit Site Settings >> select "On"
Android (Opera)
Turn on Location Services:Settings >> Location >> select "On"
Allow us to Collect Location Data:Opera >> Settings >> Clear Browsing Data >> select "Clear Cookies and Data" >> refresh website